New-Old Direction & Holiday Shows
This past weekend, I taught an encaustic "sampler" workshop at the Evanston Art Center. We used various mixed media materials that combine effortlessly with wax. In the demo painting below, mulberry paper creates a translucent linear wave pattern, I then added white shellac and oil pastel to highlight the setting sun over the ocean waves. There is something very beautiful in simplicity and I hope to continue exploring the "less is more" concept.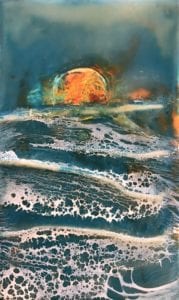 One of my older watercolors below, and most likely the subconscious inspiration for the above encaustic painting.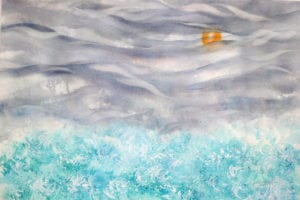 Another new direction: Pea Pods
I built an armature base, coated the wire with plaster, then shaped the plaster and added encaustic medium to the assemblage.
Wax is poured into the cradled panel in order to secure various parts. Building armature for encaustic is a new addition to the weekly techniques we cover in classes. I resume teaching after the new year at both the Evanston Art Center and the North Shore Art League.
Class info available here: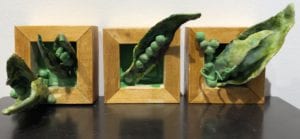 Holiday Shows:
Next week, show opening and artist reception will be featuring students who attend my classes at the North Shore Art League.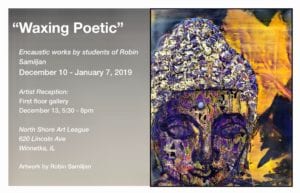 Currently, I am also exhibiting at the Evanston Art Center in their annual holiday art expo. Below is a photograph of some of my miniature paintings being featured all month.