I am inspired by ever-changing colors in the seasonal landscape. Nature's palette offers a range of wild intensity to subdued tranquility. I listen to and notice the environment, finding inspiration in every day life. Creating visual depth, texture, and movement are the guiding forces in my work. I use pure color combined with shape and form to create energy and motion on a flat surface.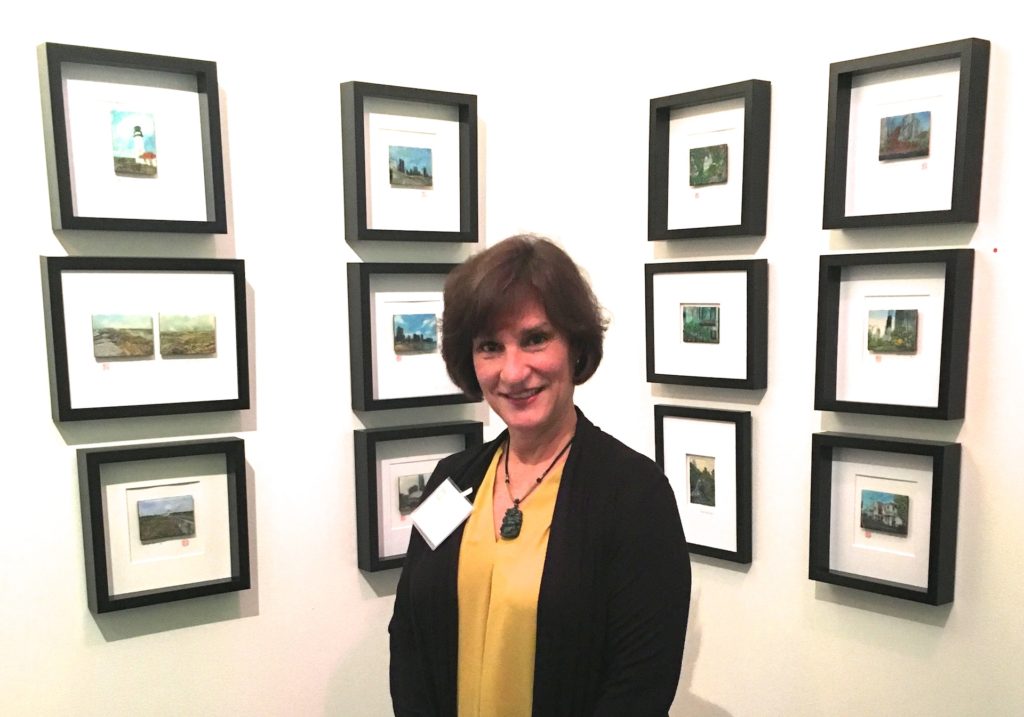 Robin Samiljan was born and raised in Chicago, studied art history and graduated from Vanderbilt University in Nashville, followed by a move to the east coast in 1988. The regional beauty of the New England landscape immediately captured her attention while she re-created nature's gifts by way of visual art. Samiljan studied watercolor painting with Nordia Kay and Jeanne Carbonetti, joined various art organizations, and after several years of participating in local shows became president of the Swampscott Arts Association. She transformed the organization during her five-year presidency and was instrumental in developing an online presence to promote the association's shows and events. She was also an active board member at the Marblehead Arts Association and soon became head of the art committee.
Samiljan discovered and explored encaustic painting beginning in 2009 during the studio residency portion of the Master of Education curriculum at Endicott College. Her work began to take on new depth in multiple art mediums. Encaustic painting combines beeswax mixed with pigment and resin, melted and applied to a surface that is then fused with heat. Sculptural qualities achieved using wax have become a welcome addition to her impressionistic paintings.
As a juried "Copley Artist" in Boston and an active exhibitor, Samiljan has established a dedicated following. Both Children's Hospital and Newton-Wellesley Hospital have purchased multiple series of her works for their permanent collections. These paintings contribute to providing the peacefulness and tranquility the hospitals strive to create for their patients and visitors. Twenty-five years later, she has moved her home back to Chicago and now looks forward to new inspiration and developing a patronage in the Midwest and beyond. She is currently teaching weekly classes at the Evanston Art Center and the North Shore Art League. Ms. Samiljan also maintains representation at Chicago Source Gallery along with the Copley Society of Art in Boston, and exhibits during warmer months in local, seasonal art festivals.
The Copley Society of Art is proud to present Miniature Moments, a solo show of encaustic works by Robin Samiljan.
Evanston artist Robin Samiljan's work will travel all the way to downtown Boston.
It's difficult to decide what to show when you have so much accumulated artwork, especially if you're Robin Samiljan...
Tranquility and peace permeates the watercolor paintings of Swampscott artist Robin Samiljan...
It's close to midnight, maybe just a few minutes before, and Robin Samiljan is standing in her backyard, surrounded by vibrant plants and trees...
Local watercolorist Robin Samiljan merges art with poetry in her new work.
"Inspiration for 'A Year of the Full Moon' came each month when the moon was full. After viewing the moon I painted the way it made me feel rather than what I actually saw."