Natures palette offers a range of wild intensity to subdued tranquility. I am attentive to the environment and landscape, finding artistic inspiration, meditation, and structure in the impressionistic patterns that exist in the natural world. I am currently focused on painting expressive landscapes. Encaustic, soft pastel, and watercolor are my primary mediums of choice. I also love experimenting with new combinations using traditional and non-traditional materials. Pure, lush color meshed with organic shapes and form allows me to create visual energy on a flat surface.
"Color is my day-long obsession, joy, and torment."
Claude Monet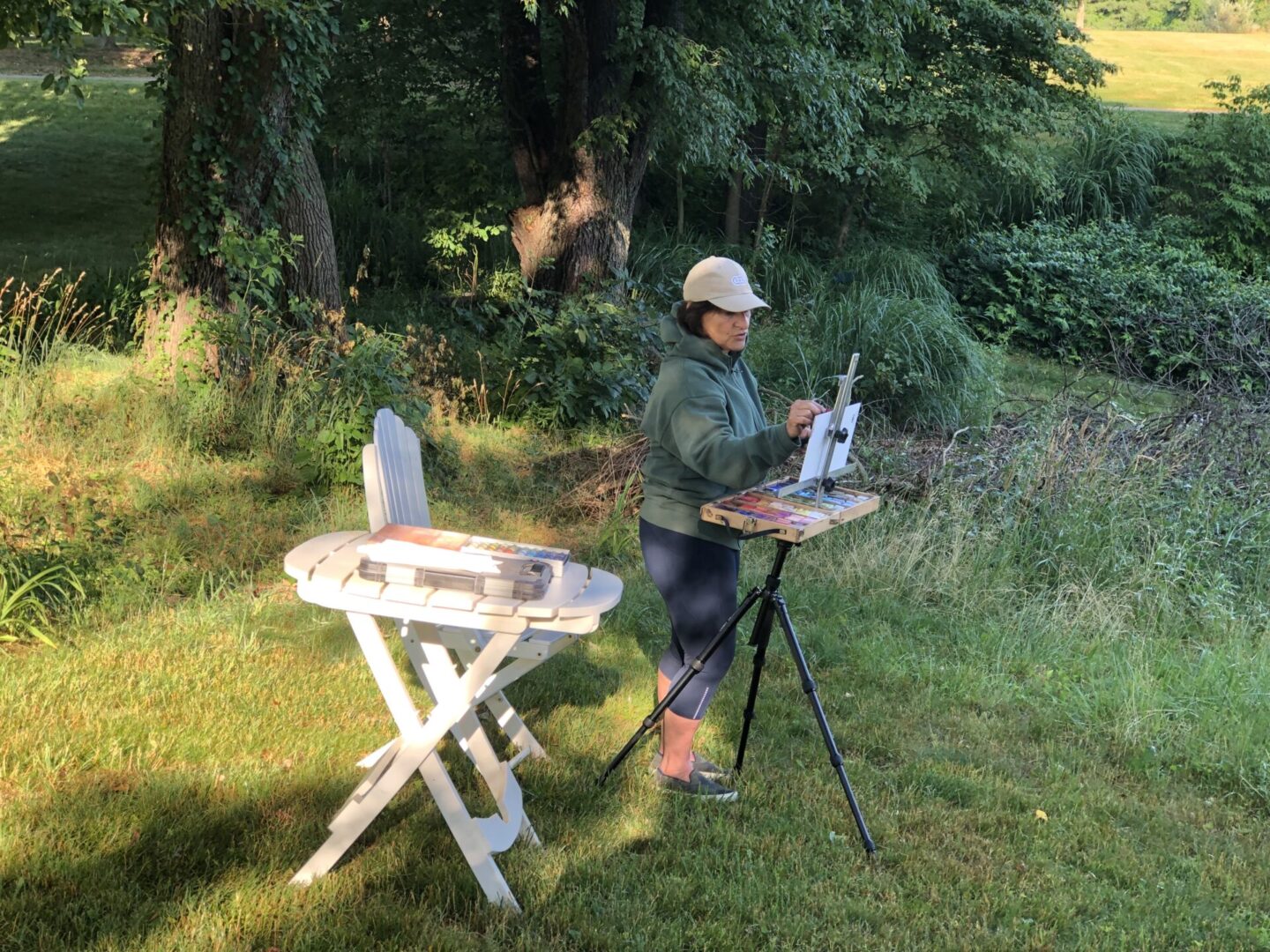 Robin Samiljan grew up in Wilmette, just north of Chicago, and shortly after graduating from Vanderbilt University moved her home to Swampscott, MA. The regional beauty of the New England landscape immediately captured her attention while she re-created nature's gifts by way of visual art. As a life-long learner, Samiljan studied watercolor painting with local artist Nordia Kay and Vermont artist Jeanne Carbonetti. She was active in various art organizations, and after several years of participating in the arts community became president of the Swampscott Arts Association.
Samiljan transformed the organization during her five-year presidency and was instrumental in developing an online presence to promote the association's shows and events. She was a board member at the Marblehead Arts Association and was soon nominated as head of their art committee. Montserrat College of Art invited her to teach watercolor painting in 2006 as part of the continuing education program, and her classes ran until her move back to Chicago in 2013.
She attended graduate school as a mid-career artist in 2008. It was during the studio residency portion of the Master of Education curriculum at Endicott College when she explored encaustic painting. Her work began to take on new depth in multiple art mediums. She then attended encaustic workshops taught by Tracy Spadafora at the 4th International Encaustic Conference, Laura Moriarty at the Truro Center for the Arts, and the "Art and Soul Journey" with Kathryn Bevier and Lora Murphy at the Burren College of Art in Ireland. Encaustic painting combines purified beeswax mixed with pigment and resin, melted and applied to a surface that is then fused with heat. Sculptural qualities achieved using wax have become a welcome addition to her impressionistic paintings.
Samiljan was introduced to soft pastels when she attended a pastel workshop taught by Casey Klahn in November 2019 followed by an online workshop with Karen Margulis September 2020. The Covid 19 pandemic allowed her the time to intensify and develop soft pastel techniques and in 2021 she was juried as an associate member of the Pastel Society of America. Samiljan continues to explore the soft pastel medium using these heavily saturated pigments on papers and boards, often combining gesso to create luminous, dimensional textures.
Following twenty-five years of living in New England, Samiljan moved back to Chicago and has found new inspiration developing a patronage in the Midwest and beyond. She is currently teaching weekly classes and workshops at the North Shore Art League in Winnetka, maintains representation at the Copley Society of Art in Boston, and on occasion can be found exhibiting in local, seasonal art festivals.
The Copley Society of Art is proud to present Miniature Moments, a solo show of encaustic works by Robin Samiljan.
Evanston artist Robin Samiljan's work will travel all the way to downtown Boston.
It's difficult to decide what to show when you have so much accumulated artwork, especially if you're Robin Samiljan...
Tranquility and peace permeates the watercolor paintings of Swampscott artist Robin Samiljan...
It's close to midnight, maybe just a few minutes before, and Robin Samiljan is standing in her backyard, surrounded by vibrant plants and trees...
Local watercolorist Robin Samiljan merges art with poetry in her new work.
"Inspiration for 'A Year of the Full Moon' came each month when the moon was full. After viewing the moon I painted the way it made me feel rather than what I actually saw."