It's almost show time, Folks!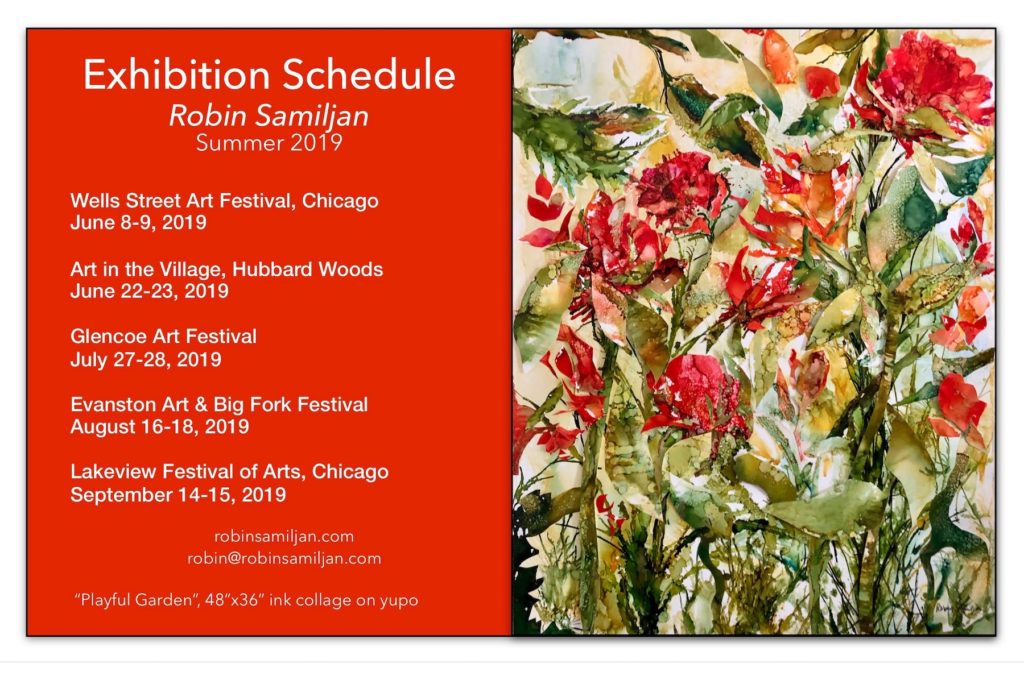 It's hard to believe that a month from today I'll be exhibiting at the Wells Street Art Festival in Old Town, Chicago. The weather has felt more like Winter than Spring, it's one of the biggest factors that contribute to the success or failure of a show.
My newest work is focused on organic patterns and brilliant color. Alcohol inks combined with encaustic medium have been an exciting addition. I have also been creating collages using alcohol ink on yupo or card stock, mounted on foam core then glued to the surface and sprayed with an assortment of Krylon products in order to best protect and preserve the work.
"Playful Garden" is the largest collage to date. I had to mount Yupo paper onto a cradled birch panel using heavy gel medium before I started the painting. After completion, I sprayed with Krylon Kamar, Krylon UV, and Krylon Crystal Clear. I am still going to have to watch out for inclement weather because this piece is delicate and quite large!
A bit smaller, "Black Leaf" is painted with encaustic medium layered with alcohol ink, then collaged with painted foil paper.
Other new mixed media works combine encaustic medium layered between alcohol inks on claybord, each panel is 6″x24″x2″ and can hang alone or combined horizontally.




At this point I am finishing up loose ends… wiring and painting cradled panel edges and soon I will have to narrow down what to bring to each show. I have PLENTY of choices!