Survival of the fittest!
It is always a physical and mental challenge when I participate in summer outdoor festivals, from the packing and loading of work to exhibit, the loading of tent and panels required in order to hang and display work, to the unpacking and setup at the actual festival, and then the re-packing and re-loading (and unloading back at home) on Sunday night after the festival weekend is over. The one thing I can never control is the weather, and I have many sleepless nights right before a festival weekend when the weather is not looking festival-friendly. What a huge relief to survive torrential downpours this past weekend!
I have always tried to stay physically fit in order to do what is required, and after having just completed another exhibition two days ago, I admit I am physically and mentally drained. Several factors that feed into sustaining required energy levels throughout a show weekend are a combination of art sales, meeting new patrons and potential students, with the added bonus of winning an award juried by the show promoter… I just won an "outstanding achievement" award at this last show from Amy Amdur.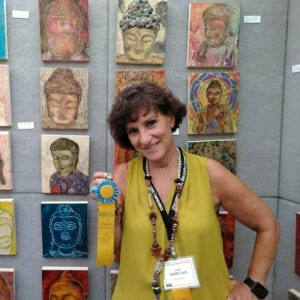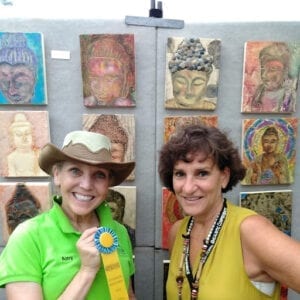 I don't exhibit again until weekend of September 14 and fortunately the Lakeview Festival of Arts is right in my neighborhood, no commuting makes everything a little easier. Lots of time to rest, organize new work, and gear up for my last festival of the outdoor summer season.